A physically impaired French woman speaks on SRK; It will really make your eyes moist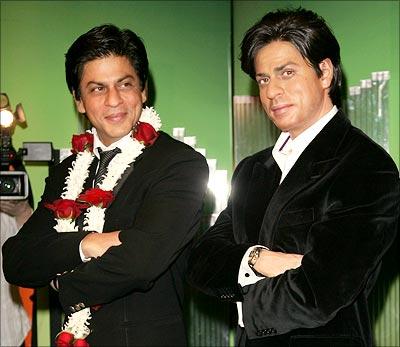 I went to see Shahrukh Khan in London when he came to unveil his statue at Madame Tussauds wax museum. I was accompanied by five young women from Shahrukh Khan's French fan club, Shahrukhfan.fr. We knew that only media people would be allowed to get into the museum, but despite this, we came from France, hoping to see Shahrukh, and maybe talk to him.
I am on a wheelchair and it was almost vital for me to tell him that when I see him dance, my body too dances, that I can dance with his body. I so much wanted to thank him! We went to the museum at 7am and we waited for hours in the icy wind of London. We talked to the bodyguards, they were giants but very nice ones; people were getting more and more excited and less and less controllable. They had come from all parts of the world, "only" to catch a glimpse of Shahrukh: France, Japan, Australia, and Trinidad.

Then he came. Suddenly no one remembered me, our small group was scattered, literally ejected meters away from me, I was sandwiched between Nani, who was helplessly holding the wheelchair, and the bodyguard, with my head flattened against him. I managed to move my head away, and I saw Shahrukh, with his caramel-coloured skin, his black hair and beautiful smile.

Then, for one second, our eyes met. How strange. Try to imagine: the overexcited crowd, the hysteria, the bodyguards, and our eyes met, although he was three meters away from me, with lots of people between us, and my chair wasn't at all at the level of his eyes. Then everything became black. The tsunami was dangerously shaking my chair. My face was flattened against the bodyguard. All that came to my mind was that the wedge of the armchair was completely driven into the guard's legs, and Nani was doing her very best to prevent me from falling on the ground. Then the bodyguard moved, with one hand he was holding the crowd and with the other he made sure that I could see something. In fact, it's because Shahrukh was kneeling down that the guard moved. He was kneeling down for me. It was like being in a cave with human walls, we were in front of each other, and I was able to tell him thank you, I could tell him that he made me dance. He didn't understand. People were screaming and my English wasn't good, I was too nervous.

He asked me, surprised, if I wanted to dance. I said "no, I don't want to dance, I dance with your body". He smiled, took my face with infinite tenderness, and kissed me on the forehead. He didn't smell cigarette, nor perfume, only a nice body odour. His kiss wasn't wet but not dry either. It was complete. He went away and I didn't see him again. What more can I tell you? This man gives off strength. When he came near me I felt this strength, he gives and gives, only with his presence.

It wasn't a star kissing a disabled woman for publicity. I felt the human being, full of tenderness. He is able to do a lot of good. I don't understand why Tussauds tried desperately to discourage us from coming. I hope Shahrukh knows that the reason why there weren't more people is that Tussauds refused to give information, kept repeating that we wouldn't see him, laughed at us. The public relations of the museum strung us along; Tussauds didn't want us to come. I don't know why and I hope this will reach Shahrukh's ears. If it does: thank you, Shahrukh; seeing you and seeing you dance has changed my life. Thank you for stopping in front of me on Tuesday, April 3rd.

What do YOU think of this post? Please react!
Photo Credit: Rediff.com