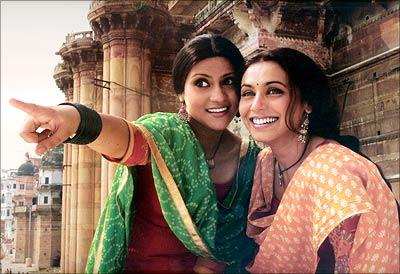 Fwee! I have done it once again! This time I'm the first on the blogging/ internet community to bring you the exclusive track listings of the next Yash Raj Film LAAGA CHUNARI MEIN DAAG - JOURNEY OF A WOMAN. This is the first time Yashraj is co-producing a film with an outsider. This film is directed by Pradeep Sarkar of Parineeta fame. It's produced by Aditya Chopra and Sarkar himself. This film stars Rani Mukherjee in the lead role. It also has Konkona Sensharma, Anupam Kher, Kunal Kapoor, Jaya & Abhishek Bachchan and Hema Malini in a special appearance.
LCMD-JOAM has six tracks altogether. Lyrics are written by Swanand Kirkire and music composed by Shantanu Moitra. Only the title song is not from the original sound track. Music Composed by: Roshan, Lyrics: Sahir Ludhianvi. It's a very popular old Hindi song.
Click on the each link to hear the songs:
1. Hum To Aise Hain
Singers : Sunidhi Chauhan, Shreya Ghoshal, Swanand Kirkire & Pranab Biswas
2. Zara Gungunalein Chalo
Singers : Babul Supriyo & Mahalaxmi Iyer
3. Chunari Mein Daag
Singers : Shubha Mudgal & Meeta Vashisht
4. Ik Teekhi Teekhi Si Ladki
Singers : KK & Shreya Ghoshal
5. Ehi Thaiyaa Motiya
Singer : Rekha Bharadwaj
6. Kachchi Kaliyaan
Singers: Sonu Nigam, KK, Sunidhi Chauhan & Shreya Ghoshal
Remember that you first read it on Bollywood Unlimited with Hollywood. Nowhere else!